Darren Smith Homes - St. Paul's Lock
Crossley Woods, Crossley Lane, Mirfield, WF14 0NXFrom £225,000 to £325,000
Darren Smith Homes is a long-established, award-winning house builder that has received NHBC commendation as one of the best small builders in the UK.
The Yorkshire-based firm is currently building a luxury, age-exclusive development at St Paul's Lock in Mirfield and prides itself on delivering quality, craftsmanship, value and style at all times.With experience dating back four generations, the Yorkshire-based house building company is headed by company directors Darren and Nigel Smith. They are both Mirfield born and bred and have 70 years' combined experience in the house-building industry.
Just mention the name of Darren Smith Homes locally and residents will instantly recognise a name and reputation that is second to none.All our properties are offered with an NHBC 10 year mark warranty and we have earned ourselves an NHBC A1 rating.
St Paul's Lock is Darren Smith Homes' flagship development and is located in the heart of Mirfield's conservation area, on the banks of the Calder & Hebble navigation canal.
Strong emphasis is placed on providing luxury combined with these convenience in these age-exclusive homes, which are aimed at the over 55s.
This exclusive collection of one and two-bedroom apartments are set within a private, secure and gated community and benefit from south-facing views and a canal-side location.
Mirfield's shops, cafés, supermarkets, banks and bus stops are only a few minutes' walk away. The railway station, which has direct links to Leeds, Manchester and London, is also within easy walking distance.
LIGHTING AND ELECTRICAL:
·       Recessed LED downlights throughout
·       All apartments installed with mains supply smoke detectors (battery back-up)
·       Intruder Alarm with PA / Distress function
·       Pendant points to living area
·       TV points to kitchen/ dining/ living and bedroom
·       Telephone points to kitchen/ dining/ living and master bedroom
·       BT, Sky and Virgin infrastructure to development
HEATING AND COOLING:
·       Nuaire apartment ventilation technology
·       Energy efficient electric under floor wet central heating system
INTERIOR AND GENERAL FINISHES:
·       Double glazed powder coated aluminium / timber windows
·       Feature engineered dark timber/ walnut veneer apartment entrance door with multi-point locking and integrated spy hole
·       Polished chrome door handles
·       Satin painted skirting and architraves
·       Walls and ceiling finished with a white matt paint finish as standard (Colour options available*)
·       Fitted wardrobes to bedrooms
·       Choice of carpet and vinyl click flooring cover for kitchen area (additional upgrade packages available*)
BALCONY AND TERRACES: 
·       Private Balconies **
·       Glass fronted balconies and waist-height walled terraces **
·       Vinyl finishes to balconies and composite decking to terraces
·       Time-controlled, dusk-to-dawn, sensor-activated and emergency lighting where appropriate
**subject to apartment location
CAR PARKING:
·       Secure undercroft and external parking with remote controlled electronic entrance gates and doors
·       One conveyed parking space per apartment guaranteed
·       Limited additional car parking spaces available to lease (first come first serve basis by negotiation)
·       Otis Gen2Life Elevator in each apartment block (except Gate House)
·       Cycle storage within undercroft parking zone
SECURITY AND COMMON/ EXTERNAL AREAS:
·       Professionally maintained gardens and exteriors
·       Security entry phone accessed by individual apartments handset
·       Centrally located toilet facility to undercroft parking level
·       Lock up and leave facility
·       Common areas and key locations covered by high specification digital CCTV with connection to apartment living room
·       Centrally located Automatic External Defibrillator (AED)
·       Designer flooring to building reception foyers
·       Painted walls with designer flooring to corridors and staircases
·       Communal bin stores with recycling capability
·       Maintained communal landscaped garden and terrace with furniture
·       Internal post box bank in each apartment building reception foyer
* Optional Extra – Additional charges may apply
ST. PAUL'S LOCK MANAGEMENT COMPANY:
The management company which will oversee the day to day operations and maintenance for the estate. A service charge is levied upon each apartment at a proportional rate. Full details are available upon request.
PEACE OF MIND:
·       150-year lease
·       10-year NHBC warranty
·       Ground Rent £175 p/a
DISCLAIMER:
At Darren Smith Homes we strive for perfection. Our aim is to build a supreme product for each and every new homeowner so that you can then reap the rewards of our hard work. As such, we reserve the right to amend the specification of our apartments as required without prior notice to incorporate revisions of an equivalent or elevated standard. This includes, but is not limited to, the branded products listed in this specification. At the time of going to print, every attention has been given to the accuracy of all the information that is conveyed. However, the content of this material does not form all or any part of a contract and/or establish a representation of warranty and we therefore recommend that it should only be considered as a guide. We further recommend that, where possible, all aspects are verified with the sales agent.
Opening hours
10.00am to 3.00pm, 7 days per week (unless otherwise stated)
Request details
Properties for sale
Call rate information*
View all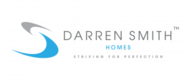 Darren Smith Homes
Crossley Woods, Crossley Lane, Mirfield, WF14 0NX
Request details