Property in Edinburgh
Locations
Browse locations in Edinburgh
Postcodes
Agents
The perfect city pads in Edinburgh, we're creating 377 homes for sale and rent at The Engine Yard – with an aesthetic offering for everyone. So, whether you've an appetite for restored, historic architecture, or a new build home, we're creating both in this architecturally distinctive, urban community. Urbanites can choose from a range of one and two bedroom apartments as well as stunning penthouses of up to 131 sq m in size. Every home maximises space and light; with dual aspect windows and, in some homes, balconies, residents can take in Edinburgh's cityscape and the distant countryside – whilst also enjoying a light and airy home. Some homes feature terraced roof decks and private gardens, while ground level homes offer direct street access. There is a gym and underground car park too.

30 Stafford St Edinburgh EH3 7BD

Ballantynes Property Group has a particular emphasis on providing residential estate agency and property management solutions to private clients and the development community.  In addition the firm provides Property & Estate Management Services, Planning & Development Advice, Sales, Purchases and Valuations of Commercial, Industrial and Rural Property, Property Lettings as well as Environmental and Waste Management Consultancy.  From our two offices, one in Edinburgh's West End and the other in Perth City Centre, we aim to provide a dynamic approach to all our clients property requirements, providing a friendly and professional service. 

33 Roseburn T Edinburgh, Edinburgh EH12 5NQ

Hi, we are Curran & Co Property! We launched our estate agency on the 8th November 2021, opening the doors of our Roseburn Terrace office to the world. Blair Ross, our director, has spent most of his adult life as an estate agent working within Edinburgh & the Lothians. He recognised a need for an agency that values the individual requirements of the customer above all else. As luck would have it, a former colleague and close friend, Lucy Beaumont was on board to join him as a property agent.
A guide to Edinburgh
Edinburgh, Scotland's bonnie capital and once voted in a YouGov poll in 2013 one of the most desirable UK cities to live, sits in a beautiful location on Scotland's east coast. The Scottish capital is surprisingly compact in places, however, venture a little further and you will discover the areas of Leith, the 'villages' of Stockbridge, Morningside and Duddingston. The 102 square miles also encompass West End, New Town, Old Town, The Grange, Barnton, Cramond, Southside, Meadows, Marchmont, and Murrayfield.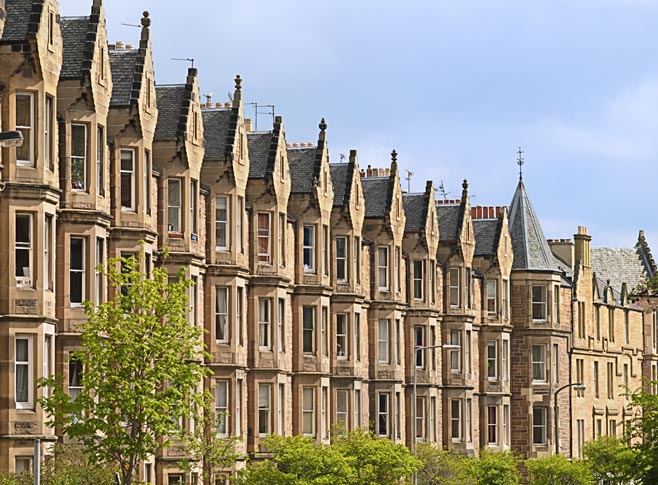 Edinburgh was built on seven hills and professes to have more listed buildings than anywhere else in the world. The architecture is delightfully varied and walking around the city's cobbled streets, you can soak up the medieval wynds, closes and traditional tenements found in the Old Town, or admire the majestic Georgian buildings in New Town. Together, Old and New Town are listed as a World Heritage Site, a status that will ensure Edinburgh's unique character will be preserved for generations to come.
It is home to many of the UK's most visited attractions. In fact, after London, Edinburgh is the second most popular tourist destination in the UK. Visitors flock to the Royal Mile with its medieval castles, Holyrood Palace (the official residence of Her Majesty the Queen in Scotland) or to climb to the top of Arthur's Seat for an amazing view of Edinburgh, while breathing in the fresh Scottish air.
Edinburgh property
Residents benefit from a wide variety of property. James Whitson, Director of Edinburgh Residential Sales at estate agent Rettie & Co., says that each area offers something different, depending on what the buyer is after. He said: "New Town is a designated UNESCO World Heritage Site and has the largest and best-preserved example of Georgian town planning in the UK. It has a unique mix of Georgian town houses, flats and mews properties. This area tends to be popular with families, professionals and students."
Old Town, also a World Heritage site, has the older medieval wynds and closes, with traditional tenements, mixed with some modern developments, attracting a wide variety of people. Marchmont, in which you find mainly Victorian houses and flats, attracts students and young professionals because of its proximity to Edinburgh University's campus. Murrayfield has some great Victorian warehouses which have been appropriated as houses and flats. The area also has some modern developments, making Murrayfield popular with families. Mr Whitson (Rettie & Co.) said Leith's recent regeneration was noteworthy and the area was filled with beautiful Georgian, Victorian and inter-war properties, therefore it attracted a wide demographic of residents from young professionals to families.
Taking the city in as a whole, with its wonderful views, stunning properties, hidden gardens and secret courtyards, Mr Whitson (Rettie & Co.) believes Edinburgh deserves its reputation as one of the most compelling cities in the world.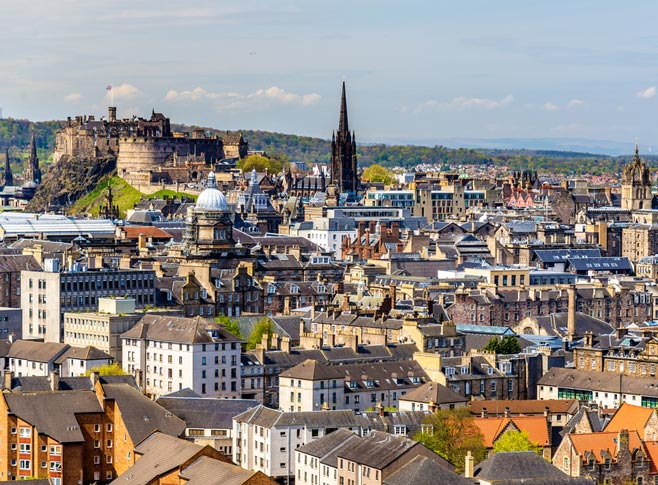 Most of the city centre properties prove popular with potential buyers, thanks to their well-proportioned rooms and high ceilings. Apartments in converted Victorian houses in Belgrave Crescent are filled with copious amounts of natural light and have views over the impressive Edinburgh Castle in one direction and the Forth Bridge in the other. In Edinburgh's Georgian New Town, property is very desirable. The 18th century households provide a stunning place to live and are fine examples of elegant Georgian architecture.
What are the average sale prices in Edinburgh?
According to estate agents at Rettie & Co., the below sale prices refer to the average across New Town, Old Town, Marchmont, Murrayfield and Leith.
One bedroom flat in Edinburgh - £132,225
Two bedroom flat in Edinburgh - £182,355
Two bedroom house in Edinburgh - £172,014
Three bedroom house in Edinburgh - £281,975
Jamie McNeill from CKD Galbraith's Edinburgh office says: "Due to a growing demand from first time buyers and the impact of prices, which in some areas have seen a 15% year on year rise, one bedroom flats (£100,000-150,000) are particularly popular.
"We are also seeing a high demand for two and three bedroom flats in the city centre, New Town, Stockbridge and Morningside, with prices rising between 10% and 18% year on year."
However, he explains that demand in the prime Edinburgh market (£1million and above) fell after the introduction of LBTT (which replaced Stamp Duty in Scotland in April 2015) but is now seeing buyer and seller confidence return and he expects this to continue in the year ahead.
What are the average rental prices in Edinburgh?
According to Rettie & Co., the below rental prices refer to the average across New Town, Old Town, Marchmont, Murrayfield and Leith.
One bedroom flat in Edinburgh - £743 pcm
Two bedroom flat in Edinburgh - £996 pcm
Two bedroom house in Edinburgh - £790 pcm
Three bedroom house in Edinburgh - £1,102 pcm
James Kerr, Managing Director of Ben Property Management, says: "We are still finding there is a huge demand for one, two and three bedroom properties across the city with the top end of the market expanding. We have seen a rise over the last year or so in exclusive luxury properties coming to the market for rent, as demand has increased."
Essential information
What are the best and most popular schools in Edinburgh?
Edinburgh is well known for its schools and John Boyle, Director of Research at Rettie & Co., says that one in four children is at a private school in Edinburgh.
Amongst the most notable schools is George Heriot's, found in Old Town. The establishment carries children from nursery right through to senior school and is one of Scotland's most distinguished schools. The Mary Erskine School (for girls aged 12-17) and Stewart's Melville College (for boys aged 12-17) are popular choices amongst parents due to their good results. Close by in New Town, Edinburgh Academy and Fettes College also prove popular.
There are some excellent and highly sought-after state schools found in the city, namely Cramond Primary, a non-denominational school, and Blackhall Primary in Middle Street.
Edinburgh's university is ranked 17th in the QS World University Rankings 2014/15 and is free for those who live in Scotland.
What types of local transport are available in Edinburgh?
Mr Whitson (Rettie & Co.) believes that the best way of getting around Edinburgh's city centre is by foot. He said: "Thanks to the compact centre and great pedestrian routes, walking is a delightful way to get around." However, the rest of the city is well connected by trams, buses, trains and cycle paths. The tram system, which runs from Edinburgh Airport to York Place, caused much ire amongst residents before it was finished but has been running smoothly since completion.
As the capital, Edinburgh has the busiest airport in Scotland, providing direct links to London. Edinburgh to London takes 90 minutes and hundreds of flights leave each day. There are also direct flights to the rest of the world. Edinburgh's main train station, Waverley, has trains to London that leave regularly throughout the day and trains for Glasgow Queen Street which leave every 15 minutes.
A guide to Edinburgh: Lifestyle
Step inside a map to Edinburgh and you will see that everything you need is on your doorstep. From shopping centres to bars and restaurants, galleries, cinemas and parks, James Kerr (Ben Property Management) believes Edinburgh has it all. As the capital of Scotland, there is always something going on and there is an abundance of either cultural, indoor or outdoor activities for residents to enjoy.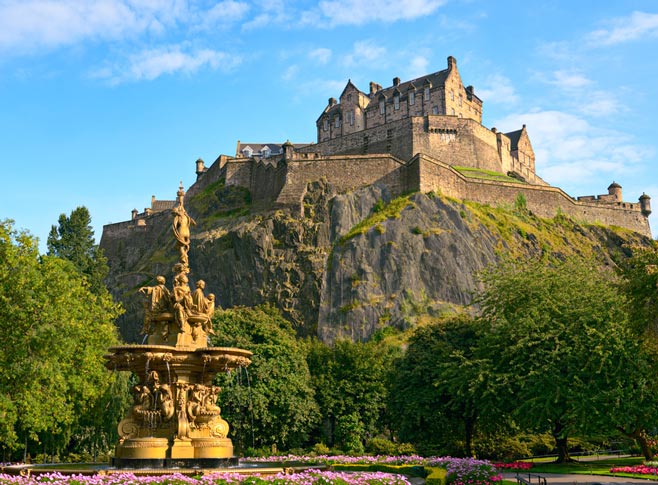 Mr McNeill (from CKD Galbraith) says: "Edinburgh Castle is a must for any visitor and has always been extremely popular because it is an important part of the city's history". A mile down the cobbled high street from the castle is Holyrood Palace. Also close by in Old Town and worth a visit, according to Mr Whitson (Rettie & Co.), are Mary King's Close and Greyfriars Bobby, Edinburgh's smallest listed building, which has an enchanting story behind it. Read more about this here.
Where are the best places for shopping in Edinburgh?
Off the tourist track, residents enjoy meandering through the cobbled streets, which is a perfect way to soak up Edinburgh's buzzing atmosphere and to explore its quaint boutiques for vintage clothing, jewellery and accessories. To splash the cash you'll find Harvey Nichols in St Andrew Square, which has a restaurant if you tire of shopping. For rainy afternoons, Edinburgh has many independent cafés. Blackwood Coffee in Morningside has a local feel to it and serves a mean espresso. The Elephant House, where J K Rowling famously began the Harry Potter series, is a popular choice with families.
Along with its independent cafés, Edinburgh also has a number of independent cinemas. The Dominion, in Morningside, is a family run cinema where visitors are encouraged to feel at home in a comfy seat or reclining armchair with a footstool. Guests can take their shoes off and relax, and people have even been known to turn up in their pyjamas!
Where are the best restaurants in Edinburgh?
There is no end to the number of restaurants in Edinburgh. After London, it has the highest number of Michelin starred restaurants in the UK according to a recent report in The Daily Telegraph. With more restaurants per head than anywhere else in the UK, when it comes to eating out locals are spoiled for choice. Mr Whitson (Rettie & Co.) said: "Edinburgh is a culinary destination with many Michelin starred restaurants and a rising street food scene." He recommends going to New Town for a lively meal. 10 to 10 Delhi, a little Indian eatery, is very good value for money and has a cosy, intimate atmosphere. Panda and Sons and their sister bar Hoot the Redeemer are two of Edinburgh's quirkier spots to get a drink. Panda and Sons, disguised as an old-fashioned barber shop and hidden behind a secret bookcase doorway, has an impressive selection of bespoke cocktails. For a night out, locals and visitors head to George Street in New Town, which has a number of pubs, fun bars and restaurants. In Old Town, Cowgate is popular with students and young professionals. Dragonfly, just off the Grassmarket, popular with both young and older crowds, has an outstanding selection of reasonably priced drinks.
Are there any annual events hosted in Edinburgh?
Mr McNeill (CKD Galbraith) said that during the summer months the city was transformed into the world's festival capital and Edinburgh's population was said to double! The International Film Festival kicks things off at the beginning of June. A number of others follow, including The Edinburgh Jazz and Blues Festival, which is a firm favourite, but the most popular is the Edinburgh Fringe Festival, the world's largest arts festival. The Edinburgh Fringe Festival runs from August 5 to August 29 each year. Edinburgh Festival Theatre is renowned as a fantastic venue which hosts a variety of large events throughout the year. The New Year's Eve celebrations in Edinburgh are spectacular too. Hogmanay, as it's otherwise known, involves a beautiful torchlight procession, street parties and a concert in Princes Street Gardens, ending the night with a stunning display of fireworks. Thousands flock to Edinburgh's pubs for this celebration.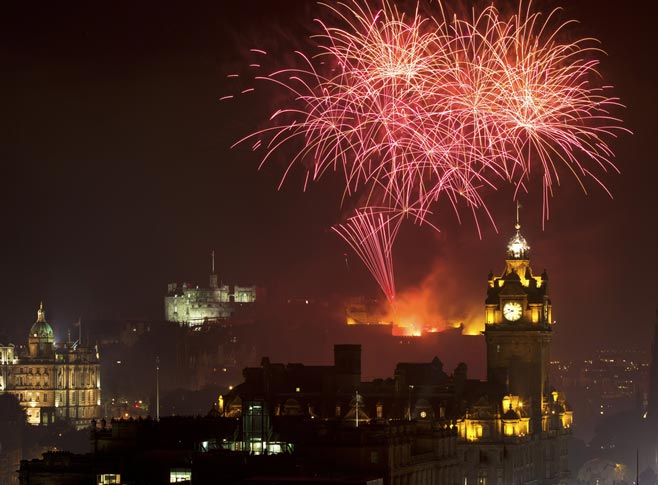 Are there many open spaces in Edinburgh such as parks, commons or rivers?
Green open spaces are aplenty for when you feel like seeking out a peaceful spot. Blackford Hill and Hermitage of Braid have some brilliant scenic walks. There is also a very pretty canal nearby, and a path alongside it which is ideal for a stroll.
What are the top things to do in Edinburgh?
For the top things to do in Edinburgh, Mr Whitson (Rettie & Co.) recommends hiking up Arthur's Seat – an extinct volcano – because it has the most breathtakingly beautiful views of the city. As far as Edinburgh attractions go, Edinburgh Castle is often overwhelmed with tourists and can be somewhat stressful to visit. Residents should go to its lesser-known version, Craigmillar Castle. Set in green gardens, it is one of the best medieval castles in Scotland. Much of the castle's structure is in surprisingly good order, which means you can explore from the roof of the tower house, all the way down to the dark basement, where a skeleton was found in the early 19th century. Needless to say, children enjoy this just as much as adults.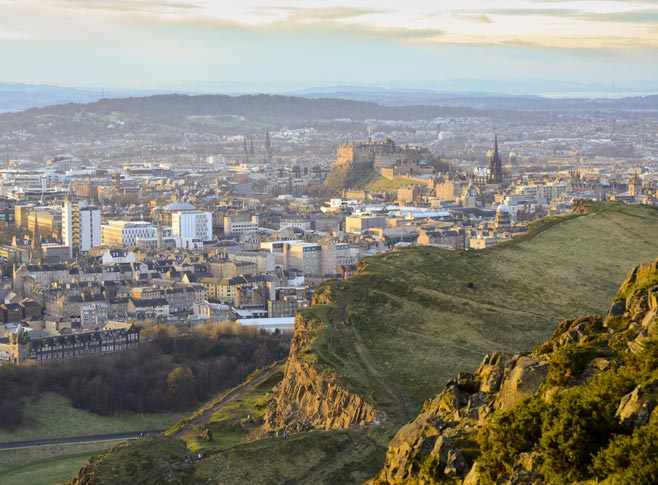 Where are the best places to visit with children in Edinburgh?
The Royal Botanic Gardens are a special place to go with children, who love learning about the plants. Edinburgh Zoo, home to the only pandas and koalas in Britain, is also a favourite with children. The Water of Leith Walkway, which meanders through the city out into Leith, provides a lovely background for a ramble with family or to walk the dog.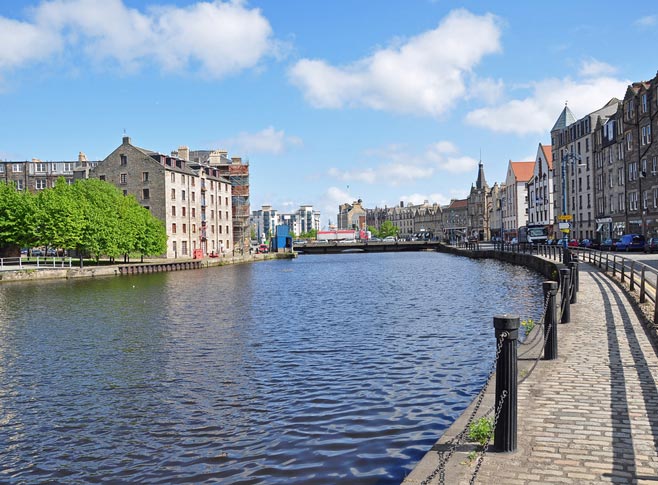 What leisure facilities are available in Edinburgh?
Edinburgh is a famous sporting city and has two football stadiums, Tynecastle Stadium and Easter Road, which are home to Hearts and Hibernian respectively. Murrayfield Stadium is the heart of Scottish rugby but also hosts lively music concerts. Seeing a Scottish National Rugby game is another recommendation from Mr Whitson (Rettie & Co.), as the atmosphere in Murrayfield is unique. Sporting facilities are plentiful and residents have the choice of 24-hour gyms, including The Gym and PureGym. There is a Virgin Active in New Town, which has a spa, swimming pool and tennis courts. For something more upmarket, One Spa has specialist equipment such as its Thermal Suite and boasts a blissful rooftop hydro swimming pool and luxury changing facilities.
Insider's guide: Top tip for getting off the beaten track in Edinburgh
If you put into Google the words 'Edinburgh Innertube', you'll be presented with a bunch of colourful lines that make up a map – similar to that of the London Underground. However, this map actually highlights around 75km of pathways for cyclists to explore along abandoned railway lines. The route starts from Cramond in the northwest and extends to Musselburgh in the southeast, and in between there is plenty to see. For those who live in Edinburgh, it's a great way of discovering some of the lesser-known parts of their hometown.
References
All information is correct at 27/11/15
Instant

property alerts

If you're looking to buy or rent, give yourself a head start and set up an instant property alert here today.