Property in Cardiff
Locations
Browse locations in Cardiff
Postcodes
Agents
70 Whitchurch Road Cardiff CF14 3LX

MICHAEL JONES & COMPANY, is an Independent family-run firm, with over 40 years experience in the residential sales and lettings Market in Cardiff.

Bramley Grange, Unit 3, Skeltons Lane Leeds LS14 3DW

Bettermove are an award winning, 5 star rated National Estate Agency. Whether you are Buying or Selling a property we are here to help as we are passionate about property and getting people moving. The Bettermove team have years of experience in the property sector as well as in depth knowledge about the local areas we operate in. We are well known for our proactive selling approach and for our high standards of customer service and excellence. Our happy sellers benefit from our fee free service; no commission and no upfront fee. We aim to sell property in under 30 days due to our huge database of buyers. We are open evenings and weekends, so you can contact us when you need us. Proud members of The Property Ombudsman Scheme so you know you are in safe hands.

Prospect House, Columbus Quay Liverpool L3 4DB

Investment Information: Holiday Lodges 8% Net Return (Guaranteed for 5 years (Return begins upon exchange, not completion) 120  Units Available Prices From £64,950 110% buyback Operated by a £1.5bn Market Leader
A guide to Cardiff
The Welsh capital Cardiff is the largest city in Wales and the youngest capital of Europe. As the ninth largest city in the UK, Cardiff has an estimated population of 350,000 inhabitants, mostly within a three mile radius of the city centre. With more than 18 million visitors each year — and named as the 6th must-see destination, according to National Geographic — it draws tourists from around the world due to its investment in culture and famous sporting traditions.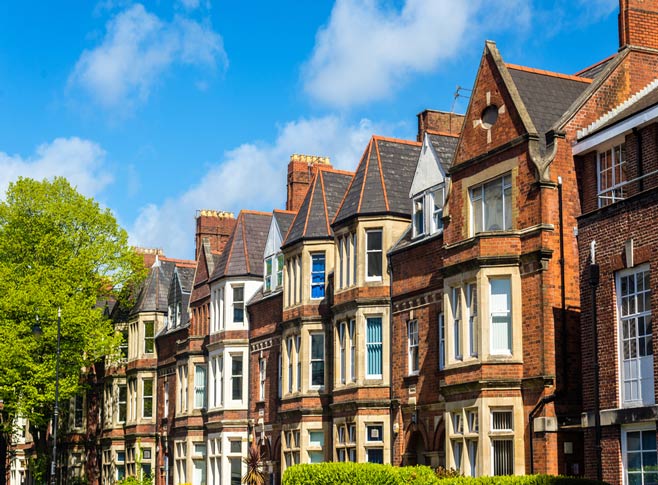 Tony Filice, Director of local agent Kelvin Francis, said: "The combination of a vibrant nightlife in the city centre, excellent shopping (including the popular draw of a John Lewis store) and strong, local independent shops have contributed to Cardiff being named as one of the top 10 cities to live in throughout the UK, according to The Daily Telegraph."
Cardiff property
The Cardiff city area consists of predominantly older style Victorian properties, particularly in the districts of Roath and Cathays. Many of these homes are occupied by students for their close proximity to the city centre and the Cardiff university campus.
The north Cardiff area (Cyncoed, Roath Park, Lisvane, Llanishen, Thornhill, Heath, Whitchurch) is the most favoured part for families. It consists of three to four bedroom semi or detached homes and is popular due to the ease of access to parks, schools and bus routes.
West Cardiff, which is made up of Radyr, Llandaff, St Fagans, Creigiau and Pentyrch, is on the fringe of the countryside but is still an easy commute to the centre of the city and this provides a strong draw for families.
The east side of Cardiff (Old St Mellons, Castleton, Marshfield) is also on the fringes of the countryside, occupied by families, having good highway links (M4/A48 and A470), schools and local amenities.
Cardiff house prices
The Cardiff housing market continues to show signs of increasing activity. John Wood, Director of Cardiff estate agents Thomas H Wood, has seen the capital go from strength to strength.
"Cardiff's reputation as one of the top cities in the UK is attracting a younger generation to the Welsh capital. We are helping more and more people in their 20s and 30s for both sales and rentals, with areas such as Whitchurch and Radyr proving particularly popular for buyers of all ages."
Mr Filice (Kelvin Francis) said: "As the city is such a draw for families and students, there is strong demand for the traditional three bedroom semi-detached homes. The average price for such houses in Cardiff has grown by 20 per cent in the last 12 months. High demand and a shortage of supply has seen the average price rise close to £320,000 for these homes."
What are the average sale prices in Cardiff?
One bedroom flat in Cardiff - £120,000
Two bedroom flat in Cardiff - £150,000
Two bedroom house in Cardiff - £180,000
Three bedroom house in Cardiff - £320,000
Belinda Bishop, Branch Partner at Chewton Rose, said: "The premium homes market in Cardiff is very fluid at the moment, with properties in the bracket of £400,000 to £850,000 selling very well. We're seeing an uplift in demand from families seeking open-plan living and private space for the 'ultra-modern' home, yet there is also still a large interest in Victorian style properties."
Rob Price, Owner, Belvoir, Cardiff, said that he expected an increase in activity among the Cardiff sales market in 2016, because there had been an uplift in demand for homes in the Welsh capital.
He said: "Consumers are gradually becoming more confident again, driving the growth in demand for property in the centre of Cardiff. This last year, we've seen an uplift in sales of two and three bedroom houses ranging from £220,000 to £280,000."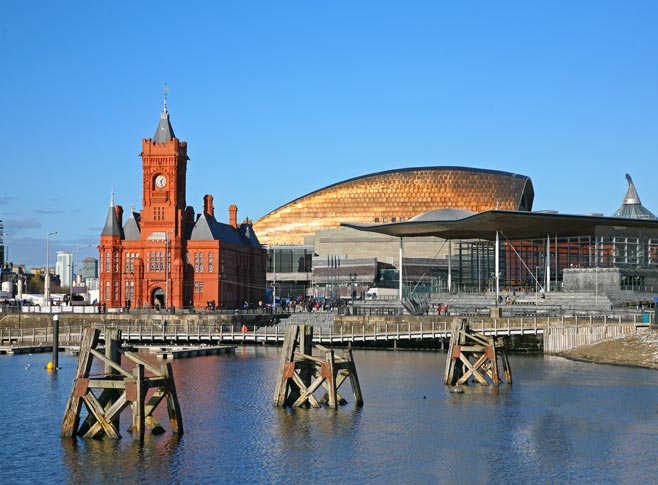 What are the average rental prices in Cardiff?
One bedroom flat in Cardiff - £600 pcm
Two bedroom flat in Cardiff - £675 pcm
Two bedroom house in Cardiff - £750 pcm
Three bedroom house in Cardiff - £950 pcm
Belinda (Chewton Rose) added: "There is always a high demand for rental property in Cardiff due to the large number of students keen to live close to Cardiff University. We also often gain a lot of interest from people looking to rent for six months in the area, because they're often looking to relocate and either want to try living in the area first, or are looking to buy but may need some more time to find a home."
Mr Price (Belvoir, Cardiff) said that he believed demand for lettings would increase slightly in 2016 and that one bedroom flats were the most popular for students and professionals who wanted to rent in the city of Cardiff.
Mr Wood (Thomas H Wood, Cardiff) commented: "The lettings market has been strong for some time in Cardiff and the reputation of local universities continues to attract both leading academics and students from across the country. In turn, we have also seen an increase in buy-to-let activity with investors seeing the opportunities available in what's becoming a vibrant and well-respected city."
What are some of the best roads in Cardiff?
Mr Filice (Kelvin Francis) said: "Cardiff is experiencing a renaissance, led by the St David's Shopping Centre development, combined with the rejuvenation of the old Docks area, which includes the Cory shipping area, a majestic waterfront now with chic restaurants, theatres and marine and yachting activities.
"All of this has encouraged developers to build apartments and buy-to-let landlords who are keen to capitalise on a healthy rental market."
He listed the following road names as those among the best to live in the area.
Llandennis Avenue, Cyncoed
Cardiff Cefn Coed Road, Cyncoed
Lake Road West, Roath Park
Mill Road, Lisvane
Druidstone Road, Old St Mellons
Fairwater Road, Llandaff
Rhiwbina Hill, Rhiwbina
Cardiff Heol Isaf, Radyr
Heol Don, Whitchurch
Howells Crescent, Llandaff
Essential information
What are the best and most popular schools in Cardiff?
Mr Filice (Kelvin Francis) said: "There are excellent schooling facilities throughout Cardiff. The more popular Cardiff schools, which are a strong draw to the area, include Cardiff High School in Cyncoed, Radyr Comprehensive in South Glamorgan and Corpus Christi (Roman Catholic) High School in Lisvane."
Highly regarded independent schools include Howell's School in Llandaff and St John's College in Old St Mellons. A new Welsh school, Ysgol Gyfun Gymraeg Bro Edern, has been built in Penylan.
There is also Cardiff University and Cardiff Metropolitan University. The former was ranked internationally at 122 by the prestigious QS World University Rankings in 2015/2016.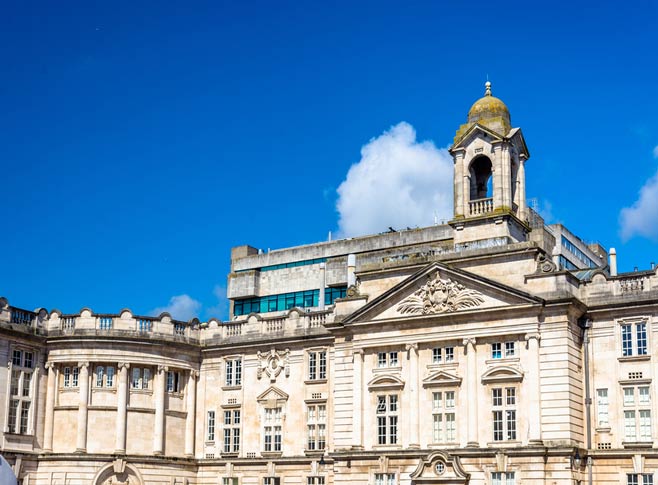 Cardiff University
What types of local transport are available in Cardiff?
As the biggest city in the region, Cardiff has a huge range of transport options including bus, road, rail, air and water. Compared to the other cities in Wales, it has a relatively low proportion of car users, but the Cardiff city council is still trying to encourage more alternative commuting, including cycle schemes and investment in a tram system.
Cardiff Central station provides rail links throughout Wales, including long-distance services across the country to Wrexham and Holyhead in the north, and English cities such as Bristol and Birmingham. The suburbs are also connected to the city by the Cardiff Queen Street railway station and the Valley Lines buses.
International and domestic flights are easily accessible from Cardiff Airport, which is the largest of its kind in the country. It is actually situated a short drive from the city in the village of Rhoose but the 10 mile trip has connections by bus, train and road links.
Cardiff is linked to Bristol just over the Severn Bridge by the M4 and the motorway stretches along the length of South Wales connecting all of its major towns and cities. As well as an extensive bus network in the city, Cardiff also has the Aquabus, which runs between the city centre and the Cardiff Bay area, which has undergone extensive redevelopment.
Cardiff guide: Lifestyle
Cardiff has been named by Barclays as one of the top 10 most affluent cities in Britain. The ranking, in which Cardiff came seventh, was based on a range of factors, including numbers of millionaires, average annual pay, the proportion of households giving to charity, business survival rates and academic performance.
Cardiff has a diverse population. Its history of strong trade connections, post-war immigration and foreign students attending the city's universities have given rise to a vibrant social mix.
It has a predominantly youthful population – with nearly a quarter of the population aged between 20 and 34 – and its large media production industry has proved a strong draw to young professionals. Many of these younger residents live in or around Cardiff Bay, the largest waterfront development in Europe.
Where are the best places to go shopping in Cardiff?
Cardiff has earned its reputation as one of the top 10 shopping destinations in Britain. Popular brands, including John Lewis, M&S, Debenhams and many more, can be found in the heart of the city at the St David's Shopping Centre.
Cardiff city centre has a number of glass covered shopping arcades built in the coal bonanza years under the reign of Queen Victoria. These arcades host curiosity and high end chic shops, and they are a joy to walk around, especially at Christmas time.
Belinda (Chewton Rose) highlighted these for those who prefer market style shops. She said there were six Victorian arcades in Cardiff which offered a more intimate environment for shoppers and could be a great alternative to the high street Cardiff shopping experience if you're after vintage clothes stores, craft shops and great coffee shops.
Where are the best restaurants in Cardiff?
According to Mr Price (Belvoir, Cardiff) the city has everything from fine dining and gourmet street food to choose from. He said: "Pop-up eateries in the city are increasingly popular because there are always so many different cuisines on offer. Got Beef is a personal favourite of mine – if you like burgers bursting with flavour then this is the place to try! Originally a pop-up event, the owner now also has a permanent bar and kitchen in Whitchurch Road, just outside the city centre, so if you can't catch the next pop-up, this is definitely worth a visit."
Mr Filice (Kelvin Francis) said: "There are also a selection of quality rustic and contemporary style restaurants in areas such as The Hayes and St David's Shopping Centre eateries."
Are there any sporting or cultural events in Cardiff?
The Welsh capital continues to be a big draw for major sporting and cultural events. The Millennium Stadium is a world class venue for rugby and football and has hosted some of the world's biggest bands (it is be renamed the Principality Stadium in January 2016).
"The quality of life that Cardiff offers has made it a very desirable and a safe place to live for the young, families and for the retired. And, not surprisingly, the city's population is predicted to grow by almost a fifth in the next five years," explained Mr Filice (Kelvin Francis).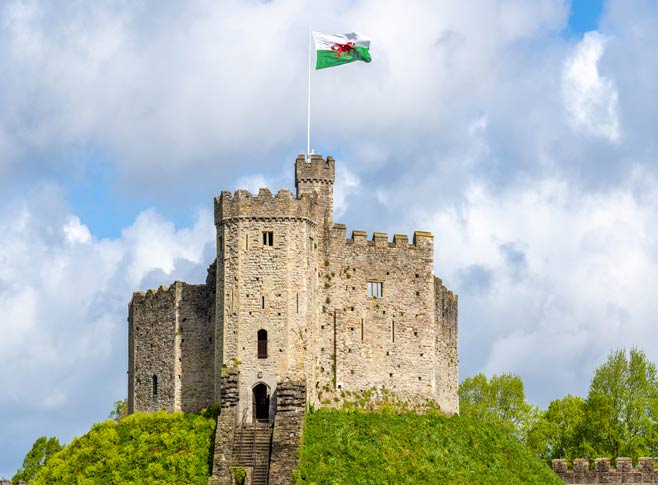 What are the top things to do in Cardiff?
Cardiff offers many cultural attractions, including the majestic Cardiff Bay Waterfront, the Marina, Mermaid Quay restaurants and bars, a Norwegian Church, and the Doctor Who Experience (much of this popular programme has been filmed in the city).
Cardiff is the home of the Welsh National Opera, which hosts ballets, concerts and musicals from London's West End. Other cultural Cardiff attractions include Cardiff Castle, Civic Centre, National Museum, Bute Park, New Theatre, The Glee Club, Penarth Award Winning Pier and Pavilion and SWALEC Cricket Ground where the Ashes were played in 2015 (and won by England!).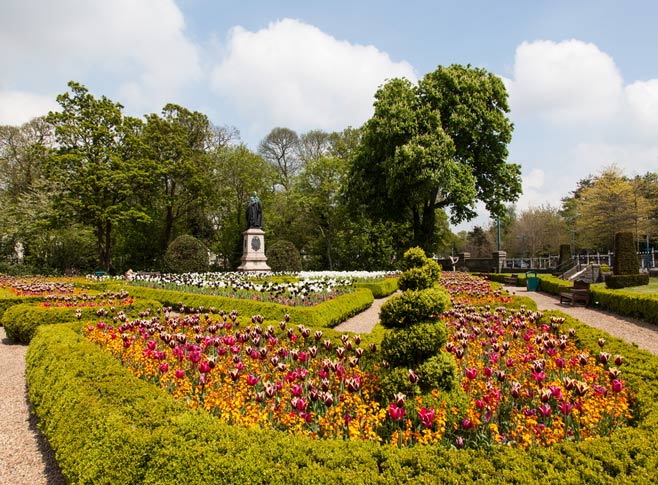 Are there many open spaces in Cardiff?
The jewel in the crown among the many Victorian parks in Cardiff is Roath Park Boating Lake and Flower Gardens, with the historic Scott of the Antarctic Memorial; a great place to take children for a relaxing afternoon in the Welsh capital.
References
All information is correct at 09/12/15
Instant

property alerts

If you're looking to buy or rent, give yourself a head start and set up an instant property alert here today.