Property in Brighton and Hove
Locations
Browse locations in Brighton and Hove
Postcodes
Agents
Avery House Brunel Place, Crawley RH10 1JB

Since 1990 we have become synonymous with the highest standards in the letting and management of rental properties for both private and corporate landlords. Our tenants are carefully selected from our extensive network of professional and corporate clients, and our properties are always maintained at the highest possible standard.


Our relationship with our landlords is unique, and offers experienced personal service, complete peace of mind, financial security, and the maximum possible return available anywhere on the rental market today.


Unlike other high street rental agents, we do not operate any cash back deals, stepped rate management services or other complicated financial wizardry which is both confusing and misleading. We simply offer one transparent, fully managed service, which is set at 5% for the entire duration of your contract. Your rent will be guaranteed each month directly into your bank account even if your property is unoccupied, you will have no void periods or gaps in rental income, your property will be tenanted only to referenced professional or corporate tenants, and the property will be maintained at the highest possible standard.


Our reputation and outlook on the rental property market differs from all of the other high street rental agents in that, we believe that the condition and presentation of the property, is the most important factor in securing high quality professional tenants and thus ensuring that your property is well looked after for the duration of the tenancy. We do not just rent property "on volume", and we prefer to offer old fashioned personal customer service, supported by heavy investment in software technology and modern business practice, to ensure that every client receives the easiest experience possible.


As a corporate member of the Guild of Lettings and Management, we are accredited at the highest level , and bound by an industry code of conduct with the most stringent practice of business ethics possible. We are also a corporate member of the Government backed Tenancy Deposit Scheme, which ensures that all client money is held in a fully compliant way, and that our company is financially solvent to a high degree.


Should you then wish to discuss your property further, then please call us at your leisure, and we would be delighted to have an informal chat.


We are full Members of the (`Property Redress Scheme`) Membership no. PRS001788
We are full Members of the ('Tenancy Deposit Scheme') Membership no. 20030679
We are not part of a client money protection scheme at present.

Elliotts Estate Agents situated right in Central Hove, on the corner of 1st Avenue and Church Road. in what is Hove's most prominent location and with one of the largest window displays in the City, a huge draw for those looking out of business hours when eating or socialising in the area. One of The Cities most respected and successful Agents covering all areas of Hove and Brighton.

3 St Georges Place Brighton, East Sussex BN1 4GA

Brighton-Homes, letting agency is uniquely positioned in the vibrant part of the city called the Lanes. With regard to lettings and property management, we roof all significant areas in Brighton and Hove including the Lewes Road, Kemp Town, Queens Park, Elm Grove, Hanover, Preston Park, Seven Dials, Hove, Brighton Marina and various other places. Manifesting our values and services to our clients in Brighton, we possess a huge list of delighted customers across Brighton and beyond.
A guide to Brighton and Hove
Brighton & Hove, sometimes known as London-by-Sea, is located in the south east of England on Sussex's east coast.
Although served by the same council — Brighton & Hove City Council — the towns have differing characters. Brighton has a reputation for being the louder of the two areas with its lively nightlife and bustling town centre. With its quieter streets and beaches, Hove is known for being popular with those after a more peaceful lifestyle.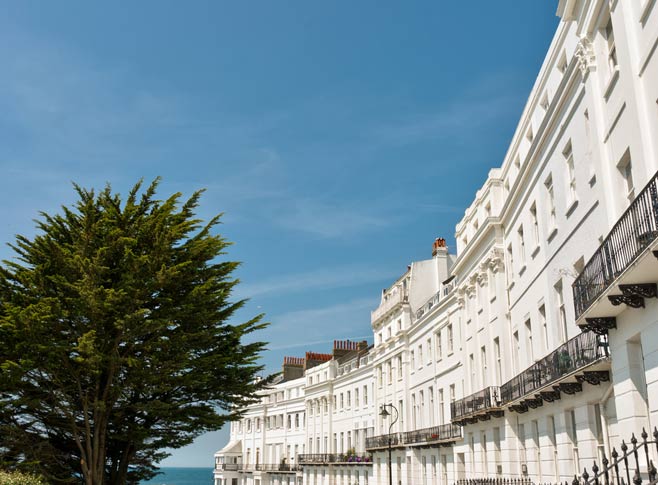 Brighton & Hove property
The area of Fiveways – in the north of the city – is popular for those with children because of its good schools and welcoming parks. The houses are fairly big but come with a high price tag too. Westdene – also a northern suburb – is a greener part of town and also attracts families because of Westdene Primary School's good reputation. Poets' Corner – commemorated because its streets are named after great poets such as Wordsworth, Byron and Coleridge – has mainly three or four bedroom homes with small gardens, again making the area popular with young families. Kemp Town – a 19th century residential estate in the east of Brighton – offers some of the finest examples of seafront architecture in the UK with its white stucco Georgian terraces. It is home to many of Brighton's boutique hotels and is a pricier part of the city attracting a mix of people.
Brighton's centre does not have a huge amount of property available but its sale stock is mostly two or three bedroom cottages in Victorian or Regency terraces.
Areas such as Brunswick Square, Adelaide Crescent and Regency Square are some of the most desirable places to live in Hove, each built around communal gardens. The highest value street is the Western Esplanade, where a property will cost upwards of £2million.
Brand Vaughan's Marketing Manager, Mike Everett, says that for him, the area of Roedean on the outskirts of Brighton has some of the best properties available. He said: "Roedean has huge appeal. It mostly consists of detached homes, some with swimming pools, and is very popular with parents from the award winning Brighton College."
What are the average sale prices in Brighton & Hove?
According to local estate agents at Brand Vaughan, the below sales prices refer to the average prices across Kemp Town, Queen's Park and Hanover, Roedean, Preston Park and Fiveways, Seven Dials and Clifton, Central Brighton and North Lane.
One bedroom flat in Brighton & Hove - £205,135
Two bedroom flat in Brighton & Hove - £379,623
Two bedroom house in Brighton & Hove - £386,663
Three bed house in Brighton & Hove - £529,800
Tristan White, a Negotiator at John Hoole Estate Agents, said: "The demand for family homes has increased since the start of 2015, with the average price for these ranging from £500,000 to £550,000 and the higher end properties ranging from £800,000 to £850,000."
What are the average rental prices in Brighton & Hove?
According to Brand Vaughan, the below rental prices refer to the average prices across Kemp Town, Queen's Park and Hanover, Roedean, Preston Park and Fiveways, Seven Dials and Clifton, Central Brighton and North Lane.
One bedroom flat in Brighton & Hove - £1,031 pcm
Two bedroom flat in Brighton & Hove - £1,376 pcm
Two bedroom house in Brighton & Hove - £1,376 pcm
Three bed house in Brighton & Hove - £1,494 pcm
Paul Bonett, Director of Bonett's estate agents, explained that the city tended to attract a mixture of tenants of all ages and had also seen a growth in demand for smaller properties that were slightly cheaper. He said: "One bedroom properties with outside space seem to be letting very quickly in the current market, as professionals working in Brighton are keen to be close to the city centre.
"The Royal Sussex County Hospital is also close, which often means our rental properties gain a lot of interest from hospital staff and sometimes medical students who are keen to rent within the area."
Essential information
What are the best and most popular schools in Brighton & Hove?
For its size, Brighton has a huge number of high performing independent and state schools.
But Mr Everett (Brand Vaughan) added: "The school catchment area boundaries in Brighton are constantly changing so many parents buy homes well within their preferred catchment area, which in turn makes house prices higher around the schools with strong Ofsted results".
For primary schools in Hove, Goldstone Primary School is popular. Having struggled in the past it is now highly regarded and so are West Hove Infants and Davigdor Infant School.
For primary education in Brighton, Westdene Primary School, Balfour Primary School, Carden Primary School, Hertford Infant and Hertford Junior School all have either 'good' or 'outstanding' Ofsted reports and are favoured by parents.
Brighton College, a boarding and day school for boys and girls aged three to 18, is hugely popular. It has a beautiful campus in the middle of Brighton and an impressive academic record. Roedean Independent School, a day and boarding school for girls aged 11 to 18, also achieves outstanding results.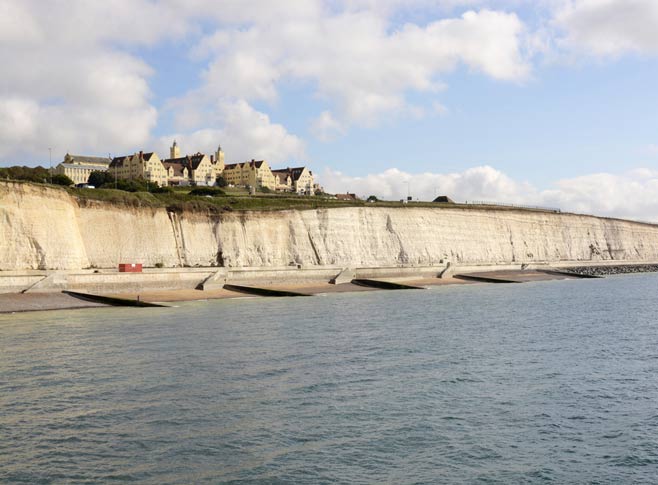 Lancing College, a co-educational boarding school for children aged 13 to 18, overlooks the South Downs and sea beyond, and also has the largest chapel in the world.
For higher education, the thriving University of Brighton has campuses based in Brighton, Eastbourne and Hastings and is well loved for its students. Alternatively, the University of Sussex has a wonderful location on the South Downs just outside the city centre and ranks highly in league tables.
What types of local transport are available in Brighton & Hove?
London Gatwick is the nearest airport and can be reached in less than 40 minutes. Driving to London along the M23 will take about an hour and a half without traffic. On the railways, Brighton to London services run direct and depart regularly throughout the day, with a journey time of just over an hour to Victoria station.
Brighton railway station is very centrally located and is a short walk to the centre of town or 15 minutes to the seafront. Once in town, driving is not advisable. As a small place it is difficult to find parking spaces and the one-way system is tricky to master. Mr Bonett (Bonett's estate agents) recommends the best way to travel around the city is on foot as everywhere is walking or cycling distance and there are plenty of signs around to help you out. Brighton is part of the National Cycle Network and cycle routes along the seafront are particularly scenic.
Where are the best restaurants in Brighton & Hove?
Brighton & Hove has over 300 pubs and more restaurants per head than any other city outside of London, so the choice on offer when it comes to eating out is almost endless. For steak, The Coal Shed Restaurant will not disappoint. It has a modern bistro feel to it and serves a hearty Sunday lunch. For beautifully cooked English dishes with an Italian twist, head to Semolina in north Brighton. The emphasis on local and seasonal ingredients is popular with visitors and so are the reasonable prices. Terre à Terre is regarded as one of the UK's best vegetarian restaurants and is well-loved for its innovative menu and top quality food.
Brighton city has a spectacular array of boutique cafés. In Marine Parade is ThewitchEZ Photo Design Café Bar. It has a lovely courtyard for warmer days – a special place with a delectable range of dishes and super friendly staff. Slice Sussex in Church Road in Hove is a lovely, cosy café that has a unique retro meets urban look and feel to it and it offers some excellent food. The full English breakfast is a firm favourite. The world famous Choccywoccydoodah shop, which features chocolate and cake works of art, is definitely worth a visit. It specialises in one-off sculptures, bespoke wedding cakes and other delicious creations. The café upstairs, which has about eight tables (so expect to queue), is a fascinating place to stop for a chocolate fix.
What's Brighton & Hove's nightlife like?
The city has plenty of theatres, comedy clubs and art and music venues that attract top acts. Krater Comedy Club at Komedia can be enjoyed five nights a week – a perfect place for big groups, with a night of comedy and a meal costing just over £20 per person.
For cinemas, The Duke of York's Picturehouse on Brighton Road is one of a kind. It claims to be the oldest continually operating cinema in Europe. It opened in 1910 and still only has one screen, championing art house cinema. The décor, great aesthetics and comfy seating make it a thoroughly enjoyable spot for an evening out.
However, it's no surprise that Brighton, more than Hove, has incredible nightlife — which makes it popular with students — and it is known for having one of the liveliest gay scenes in the world. The LGBT and straight communities integrate seamlessly around the city but there are also many exclusively gay pubs, bars and clubs in Brighton's 'gay quarter' in Kemp Town. Legends, a long-standing favourite, has an all-day bar with a sea facing terrace and is a popular clubbing spot at weekends. Worth mentioning, according to Mr Everett (Brand Vaughan), are Brighton's own breweries that supply delicious local ales and craft beers. Brighton Beer Dispensary in Dean Street is a handsome bar where you can discover everything innovative and new about beer. It has cask and keg selections, barrel beers and two "mystery" beers, which are purposefully left unnamed on the pumps with the intention of encouraging visitors to converse with the friendly staff, who are more than happy to impart their 'beer wisdom'.
Where are the best places to go shopping in Brighton & Hove?
Most cities have a quirky shopping area but Brighton's shopping area is exceptional. Along with all the usual retail stores you find in most cities, Brighton has shops for anything from vintage clothing to magic supplies. It even has its own bespoke perfumery. The Lanes in Brighton hold many unusual shops and rambling around its little streets, even if you don't go inside any shops, is a great way to spend an afternoon.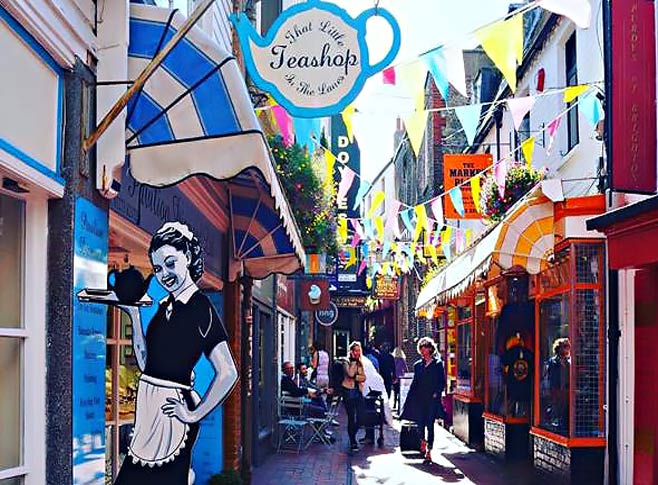 Are there any annual events hosted in Brighton & Hove?
The Brighton Festival, which takes place annually in May, is the UK's second largest arts festival after Edinburgh. Also very popular is the Brighton & Hove Food and Drink Festival, which takes place over the August Bank Holiday, on the seafront at Hove Lawns. Come rain or shine it's a great day (or three), with lots of free events.
Where are the best places to visit with children in Brighton & Hove?
The centre of Brighton is brimming with things to do and see. The fabulous award winning Jubilee Library is a great place for both adults and kids alike, with its children's library. Usage of computers is free and extra protection is provided for young users. Being a town popular with young families, there are plenty of child friendly clubs and classes for kids and the range on offer is impressive. Kids can choose between arts, crafts, drama, dance, football, gymnastics, horse riding, language classes, martial arts, music, swimming lessons, watersports and yoga.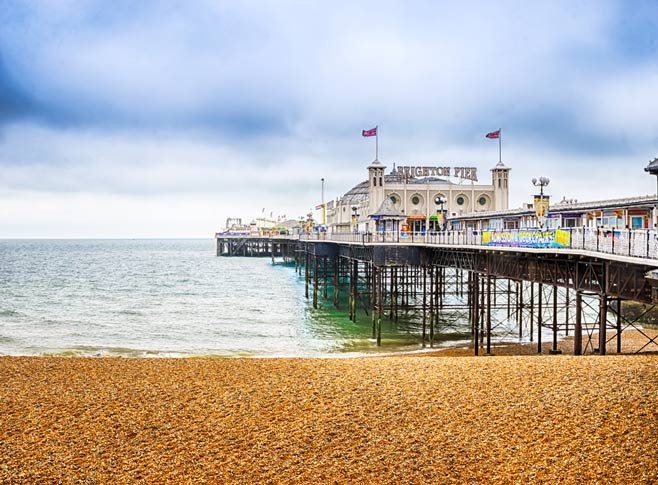 What are the top things to do in Brighton & Hove?
The Royal Pavilion is a must see for anyone that chooses to visit Brighton. The spectacular seaside palace houses furniture and works of art, including original pieces lent by the Queen, and it has a magnificent display of Regency silver-gilt. There's also the Hove Museum & Art Gallery, which is a wonderful place to admire some beautiful exhibits in peaceful surroundings. It houses some good exhibitions and a tremendous room dedicated to childhood with traditional toys. The tea room is a lovely place to take a break. Joint tickets for these iconic buildings are available and ideal for families planning a weekend of history exploring Brighton's attractions or as a unique gift.
Are there many open spaces in Brighton & Hove?
Open spaces mostly come in the form of pebbly beaches and there is usually something happening every weekend because Brighton beach and the seafront offer a beautiful backdrop for all kinds of activities. There's nothing quite like a stroll out to sea on the Brighton Pier to clear your head and revive your appetite. Popular activities include the annual Burning the Clocks and Paddle Round the Pier events. If a walk along the promenade or beachfront doesn't take your fancy, the South Downs are just a short drive away.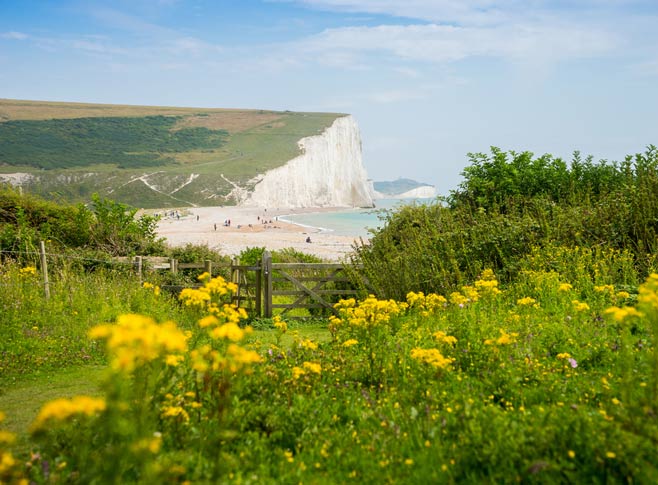 What leisure facilities are available in Brighton & Hove?
Brighton & Hove has its fair share of gyms. Active4less Gym in Hove is a great value gym with helpful staff and trainers. Free classes and not having to sign a contract make it a very popular choice. The Gym in Madeira Drive is 24 hour and also low cost. There are also the more expensive chains including LA Fitness, David Lloyd and Virgin Active.
King Alfred Leisure Centre in Hove has a great swimming pool with friendly staff. The larger pool has a slide. Brighton's council-owned swimming pool is found at the Prince Regent Swimming Complex in the city centre, which has four pools.
Insider's guide: Top tip for getting off the beaten track in Brighton
Hidden away in the maze of The Lanes, just north of the seafront, is BYOC Brighton and this hidden gem is the closest place you'll find to an authentic 1920s speakeasy. To enter you must ring the bell, you're then ushered inside and led down into a vintage, Art Deco style room. Picture vintage pianos, record players and even a secret cinema, all concealed underground. The bar is a twist on the 'bring your own booze' classic and in BYOC Brighton you take your own bottle of whatever spirit you fancy and pay a £20 fee. You then get to spend a couple of enjoyable hours (or the whole night) having delicious, original cocktails made for you by your own mixologist.
References
All information is correct at 05/11/15