Taylor Wimpey - Tulip Fields at New Berry Vale
Bicester Road, Aylesbury, HP18 0PEFrom £205,000 to £355,000
Nestled within stunning open countryside on the northern tip of Aylesbury just 2.4 mils from the town centre, a brand new community of new homes for sale in Buckinghamshire is taking shape.
Apartments on this development are leasehold and will incur initial ground rent - Click Here
Houses on this development are freehold
Our Sales Information Centre will be open for pre-booked appointments for customers who require a personal meeting or wish to view our new homes. Our main priority continues to be the safety and wellbeing of our employees and customers, and we have strict social distancing procedures in place - click here for more information. Our dedicated Sales team remains available for business remotely to ensure that you are able to register your interest via telephone or email and you can even complete your purchase from the comfort of your own home. To arrange your private visit, click "Book an appointment" on this page. You can also get in touch with our Sales Executives by calling us or you can [use Contact Developer button] to find out more about the homes we have available.
To book an appointment Tulip Fields, please follow the link to our Wheat Fields development.
The outstanding collection of new homes will be served by a range of new amenities including:
Community centre, health centre, shops , employment opportunities, schools
A wealth of clubs and groups to join – including dance and fitness classes, music and drama sessions, martial arts, a parents and tots group and Beavers, Cubs and Scouts groups
Which all help to forge a strong sense of community spirit at Berryfields.
Meanwhile, all the amenities of the town centre are close to the houses for sale in Aylesbury, including a wealth of high street retailers and independent shops as well as pubs, restaurants, a cinema, theatres and sports and leisure facilities.
The homes to buy in Aylesbury are located just off the A41 and offer excellent access to the M40, M25 and M1.

Surrounded by beautiful countryside yet with excellent transport links, a new-build property in Aylesbury at New Berry Vale offers the very best of well-connected country living.
Houses on this development are Freehold
Apartments on this development are Leasehold
Opening hours
Monday 12:00 to 17:00, Tuesday 10:00 to 17:00, Wednesday 10:00 to 17:00, Thursday 10:00 to 17:00, Friday 10:00 to 16:00, Saturday 10:00 to 17:00, Sunday 10:00 to 17:00
Contact developer
Properties for sale
Call rate information*
View all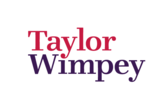 Taylor Wimpey
Bicester Road, Aylesbury, HP18 0PE
01296 595325
Call developer
Contact developer