Taylor Wimpey - Tulip Fields at New Berry Vale
Martlet Way off Glenton Green, Aylesbury, HP18 0WEFrom £260,000 to £410,000
New Homes in Aylesbury
Tulip Fields at New Berry Vale is nestled within stunning open countryside on the northern tip of Aylesbury and within an area of redevelopment called Berryfields. The development has a number of 1, 2 and 3 bedroom homes available, each thoughtfully designed, featuring bright and open rooms. With a variety of local amenities on its doorstep, as well as excellent transport links, this really is somewhere a family can call home.

Our Sales Information Centre will be open for pre-booked appointments for customers who require a personal meeting or wish to view our new homes. To arrange your private visit, click 'Book an appointment' on this page or give us a call.
You can learn more about the measures we have taken during the Covid-19 pandemic here.
The new community in Berryfields is a great place to live and is the perfect location with Aylesbury and other towns and cities such as Bicester, Luton and Oxford within reach. There is an abundance of amenities nearby including supermarkets, shops, pubs and restaurants.
These stunning new apartments and houses provide a blank canvas on which residents can stamp their own personality. With modern designs and neutral colour schemes, as well as interior layouts to suit a variety of needs, there is something to suit every taste.
Tulip Fields at New Berry Vale is a great place for children to grow up with parks, fields and a multitude of family inspired things to do in nearby Aylesbury. The award winning Vale Park has a play area, tennis courts and large open picnic area, as well as Aqua Vale Swimming and Fitness Centre. Perfect for picnics and informal games or for those with pet dogs, the nearby River Thame and Haydon Hill Park are ideal places to get out of the house and breathe in the fresh air while walking the dog.
Opening hours
Monday 12:00 to 17:00, Tuesday 10:00 to 17:00, Wednesday 10:00 to 17:00, Thursday 10:00 to 17:00, Friday 10:00 to 17:00, Saturday 10:00 to 17:00, Sunday 10:00 to 17:00
Request details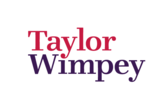 Taylor Wimpey
Martlet Way off Glenton Green, Aylesbury, HP18 0WE
Request details