Property in Bristol
Locations
Browse locations in Bristol
Postcodes
Agents
30 Belvoir St Leicester, Leicestershire LE1 6QH

When you let your property with Brink Riley Property, you get the best of both worlds. The presence and exposure of your local agent, with a transparent fee structure including additional services at no extra cost. See our Landlords page for further information. With our essential hybrid service, you are guaranteed a service above and beyond what you would expect to receive from many others. Non Resident Landlords can rest assured they are in the best hands; we have systems in place to ensure that overseas landlord responsibilities are met all inclusive of your management fee. For further information contact us.

21 Boulevard Weston-super-Mare BS23 1NR

Saxons Weston super Mare is a long established family run and owned independent Estate Agent. Saxons offer a first class friendly and efficient service as a family owned and run business. We are able to keep the focus on our customers' needs whilst building strong relations with our clients to ensure they receive a professional and tailored service to suit individual needs. Our experienced team are friendly and enthusiastic with superb local knowledge. Over the years we have built up excellent working relationships with our clients which has led to the majority of our business being repeat customers or from recommendations. 

159 Church Road Redfield, Bristol BS5 9LA

Moorfield Estate Agents in Redfield have been successfully selling and letting properties in Bristol since 1999 and have built a reputation for personal service and excellent local knowledge.  As a privately owned, independently run agency we pride ourselves on great customer service. Personal, reliable, straight-forward and professional. That's how we have conducted our business for over 20 years. We are specialists in residential sales, lettings and property management. 
A guide to Bristol
Bristol is the sixth largest city in England and is a popular tourist destination. It has a series of distinct areas which come together to make a unique and vibrant city. Located in the hills of south west England and relatively compact in size, Bristol has all the attractions and sights you would expect to find in a major city but still retains the charm of a small town.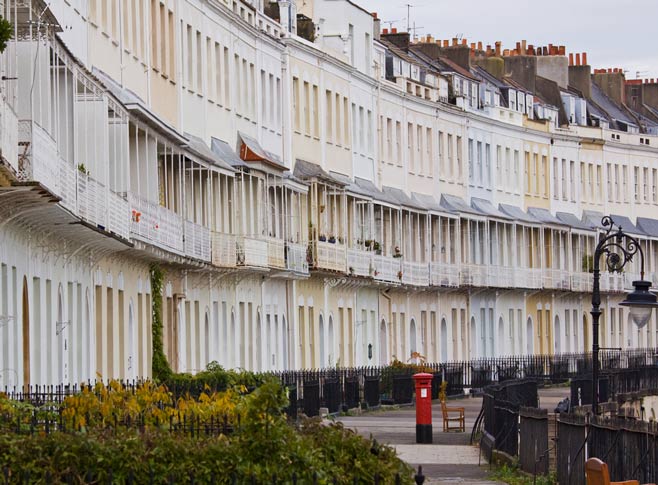 The Sunday Times chose Bristol as the best city to live in Britain in 2014, praising its 'buzzy culture', nightlife and easy access to the English countryside. What's more, its inhabitants have a healthy obsession with localism, meaning its streets are teeming with independent shops, cafés and restaurants.
Today's economy is linked to the creative media, electronics and aerospace industries. Its city-centre docks — once the staple of its early economy — have been redeveloped as heritage and cultural centres.
Bristol property
Bristol — a 40 square mile city and county — has attracted a varied demographic. The area of Easton (a ward within the inner city) is a prime example of this, where the population is mixed with families who have resided there for generations and recent graduates in search of properties with low rent.
The suburb of Clifton, famous for Brunel's impressive Suspension Bridge, has some of the most beautiful property found in the city and perhaps the entire country. The high demand for property here means house prices in this neighbourhood can be steep. You will find examples of grand Georgian, Regency and Edwardian terraced properties converted into townhouses, which are very popular with families. Stoke Bishop, next to Clifton, also has some impressive properties in the form of large, interwar houses. About three miles north west from Stoke Bishop is Stokes Croft, an artistic area with a bohemian crowd, attracted by its reputation for being a hub of political, cultural and artistic radicalism. It has some impressive 18th century Georgian townhouses. Harbourside and the waterfront warehouses in the city centre have been redeveloped into modern and innovative apartments, making the area a trendy spot for young professionals.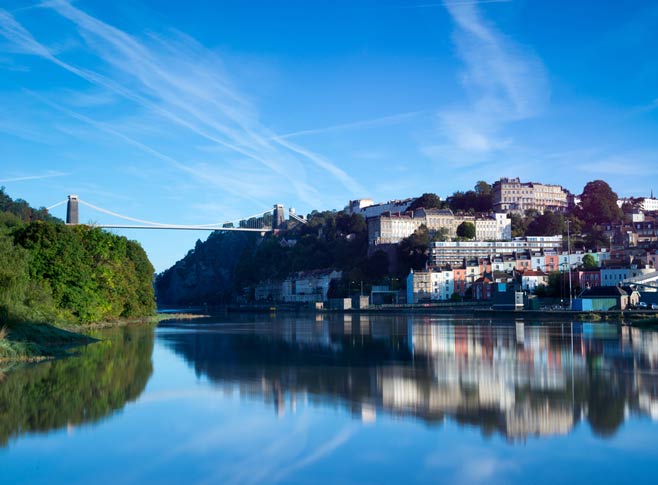 Clifton Suspension Bridge
What are the average sale prices in Bristol?
According to Roderick Thomas (local estate agent), the below sale prices refer to the average prices in the city centre of Bristol and its surrounding areas, including Wells, Wedmore and Castle Cary.
One bedroom flat - £200,000
Two bedroom flat - £275,000
Two bedroom house - £300,000
Three bedroom house - £350,000
In terms of the current market, Philip Stolworthy, Sales and Lettings Director at Cliftons, said he had seen "a huge increase" in demand from first time buyers which had created a positive impact on apartment sales.
He said: "The UK's central market, London, has slowed a little in the last 12 months and therefore developers are looking for 'hot cities' outside of the capital. We expect this to continue into next year and beyond due to the amount of unused dwellings close to the centre."
Nikita Bennett-Clements, Marketing Manager at Goodman & Lilley, highlighted Henleaze — a northern suburb of Bristol — as an increasingly popular area. She said: "It has large properties nestled close to the Downs with a high street still full of independent businesses."
Lloyd Williams, Branch Manager at estate agents Roderick Thomas, has almost 10 years of experience of selling properties in Bristol. He said he liked living in Clifton, however, later in life if he had the choice he would like to live in Abbots Leigh or Cadbury Camp Lane. Here, there are some stunning properties among dense trees and excellent walks can be enjoyed. Other desirable roads are Mariners Drive in Sneyd Park, where the average house comes with a price tag of more than £1million as does Church Road in Abbots Leigh and where house-hunters will find substantial family homes and period stone cottages. Another area also popular with younger families is Southville with nearby North Street. Clifton's Georgian townhouses are also very sought after given the shops, cafes and independent retailers.
Property in Clifton and Hotwells has risen in value by 20 - 30% over the last year, estimates Mr Williams (Roderick Thomas). He attributes this increase partly to the scheduled improvements to train links for commuters from London to Bristol (which will reduce journey times by 20 minutes from 2017). He said: "Over the last few years Londoners are realising their profits and the increase in value in their homes. They are now looking to other major cities to commute from two to three days a week and have made their way to Bristol to get more for their money."
What are the average rental prices in Bristol?
According to Roderick Thomas, the below rental prices refer to the average prices in the city centre of Bristol and its surrounding areas, including Wells, Wedmore and Castle Cary.
One bedroom flat - £835 pcm
Two bedroom flat - £1,088 pcm
Two bedroom house - £1,100 pcm
Three bedroom house - £1,400 pcm
Nicholas Webber, Director at Westcoast Properties, has recognised an uplift in buy-to-let sales. He said: "The interest from buy-to-let landlords still remains high with yields having increased significantly from 12 months ago (September 2014). In my opinion I can't see the market changing in the next year. With the continued lack of stock in both the rental and sales markets, buy-to-let will continue to drive the market, irrespective of pending interest rate rises."
Essential information
What are the best and most popular schools in Bristol?
According to Mr Williams (Roderick Thomas), Bristol has an outstanding selection of both independent and state schools, this together with its vast acres of green space on Clifton's Durdham Down make it a popular city for families. Worth noting for the excellent grades their pupils achieve are Clifton College, an independent co-educational school offering primary and secondary education, and Badminton, a girls' only boarding and day school.
For primary education, Colston's Primary School and St Barnabas C of E are both rated "good" by Ofsted, while Ss Peter & Paul RC Primary School is "outstanding". Redland Green School, Chew Valley School and Churchill Academy and Sixth Form are secondary schools and are very popular amongst parents.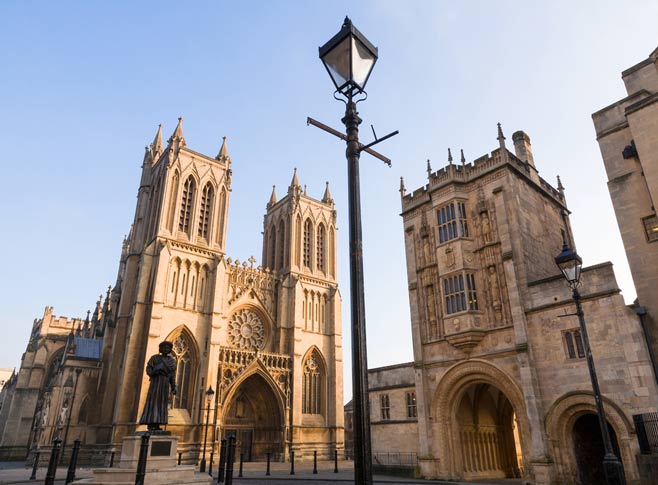 For higher education there is Bristol University, which is at 29th in the QS World University Rankings and also Bristol UWE — the former polytechnic where courses in both philosophy and social care are ranked within the top 10 UK institutions for these subjects.
What types of local transport are available in Bristol?
Bristol is supported by bus and railway networks and due to its location, it is very well connected to London, which can be reached in less than two hours by train. Also, the wonderful surrounding areas of the Cotswolds, Devon, Wales and Cornwall are all within easy reach. The city has two main train stations, Bristol Temple Meads train station and Bristol Parkway train station, and easy access to the M4 and M5 motorways. There's even a co-operatively owned ferry service for a unique way to travel the city's waterways.
Named the European Green Capital for 2015, Bristol has been keen to cultivate this reputation and has developed a cycling infrastructure, making it a haven for bikers. As a medium-sized city, walking is easy and given how busy the roads are, many prefer to weave through the backstreets and pedestrian paths on foot instead of sitting behind a wheel in a car.
Bristol International Airport is less than 10 miles from the city centre and has scheduled chartered flights worldwide.
Bristol guide: Lifestyle
Bristol's art scene is often in the spotlight because of an increasing number of one-off exhibitions or art galleries that have appeared overnight. Most of these have been inspired by the Bristol-born street-artist Banksy's unannounced exhibition at the Bristol Museum and Art Gallery in 2009. Visitors to this museum can enjoy free entry and the ability to peruse the collections of world art, natural history, archeology and much more. Speaking about the city's cultural scene, Mr Stolworthy (Cliftons) said: "The city is an open invitation for the curious."
What are the best restaurants in Bristol?
Bristol has huge amounts to offer in terms of music and culture, but it also has a vibrant and ever-evolving food scene to match. Restaurants in Bristol vary from traditional burger and pizza places to Michelin-starred eateries, there is something for everyone — whatever your taste and budget. For something a bit different, head to Steak of the Art, an art gallery which also serves delectable meat feasts. Situated just off Whiteladies Road in Apsley Road is Soukitchen, which specialises in Persian cuisine but with a more modern approach to traditional Middle Eastern flavours. Their elderflower and rose spritzer is visually beautiful — because it is topped with dried rose petals — and it tastes delicious too. For a classic pizza, there's no better place than the independent Timeless Pizza Bar in Chandos Road, where a margherita pizza will set you back just £5. They also serve gluten-free options. For more refined dining, there's Wilks in Chandos Road, serving seasonal European cuisine, Casamia in the High Street offering refined British dishes and Pony & Trap in Chew Magna where diners sit in traditional pub surroundings and experience an array of locally produced dishes.
What are the top things to do in Bristol?
For socialising, Mr Williams (Roderick Thomas) says Clifton is popular with all demographics seeking to enjoy all that Bristol's nightlife has to offer. Visit Hyde & Co and you can experience what it might have been like during the Prohibition era in their speakeasy cocktail bar. Their policy is no unoccupied tables, no entry and there's no queuing allowed, so booking or arriving early is advised. Look out for the bowler hat sign on the door, then ring the doorbell, only then will you be allowed in. Their tasty cocktails and unique atmosphere make for an enjoyable evening out. For late nights, the Triangle area is a favourite, where clubs and bars in Bristol such as The Bunker and La Rocca stay open until 3am. Even later, Park Street clubs close their doors at 6am.
Where are the best places for shopping in Bristol?
Bristol is blessed with a whole host of recurring markets which help promote the abundance of local food and produce available. The Whiteladies Road Market takes place on the first and third Saturday of every month. Ashton Court Producers' Market is held every third Sunday of the month. There are weekly farmers' markets and food markets in St Nicholas (a Georgian arcade) which showcase a selection of local produce. Bristol markets give support to independent brands in Bristol and the surrounding areas.
Bristol is also home to Cabot Circus Shopping Complex, which is located in Bristol city centre. Cabot Circus boasts over 120 shops, including stores such as Harvey Nichols and House of Fraser.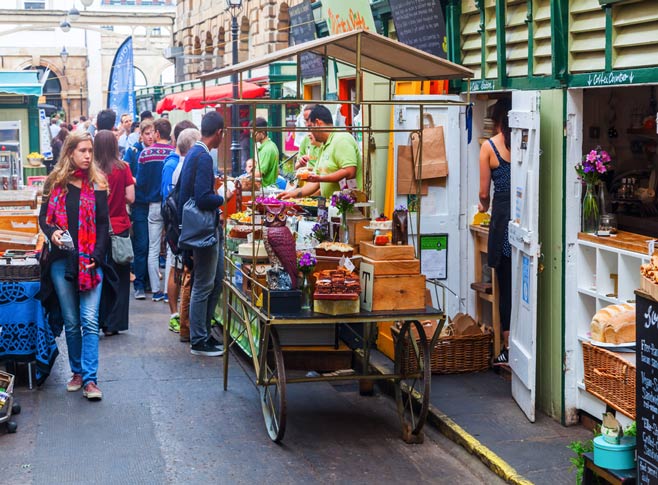 Are there many open spaces in Bristol such as parks, commons or rivers?
Bristol has a number of alluring green spaces to enjoy. Just north of Clifton you will find 400 acres of open space called The Bristol Downs, which have fabulous views of the Suspension Bridge, Avon Gorge, Leigh Woods and the Severn Estuary — a perfect spot to take your book or a picnic and get away from the hustle and bustle of city life. For a lively walk, Bristol Harbour is the place to go. You can now walk along the quayside, where ships once jostled, soaking up the atmosphere around the arts cinemas, book shops and cafés.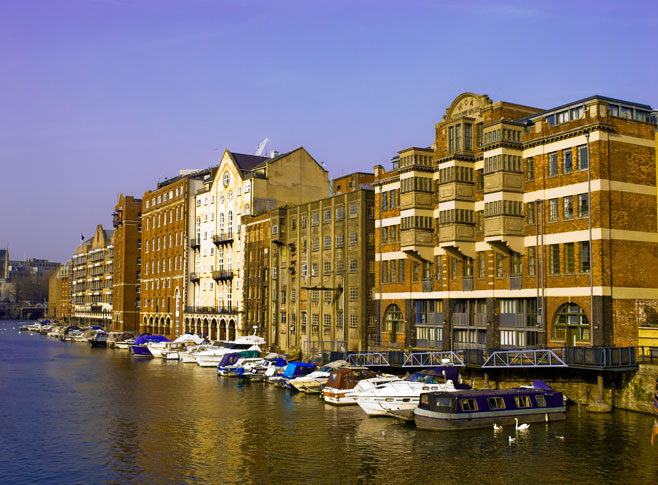 Where are the best places to visit with children in Bristol?
As you'd expect from a city such as Bristol, it has lots on offer for children. At Blaise Castle Estate there is a secure playground that has slides, swings, a roundabout and a large sand pit. It also has an adjacent adventure playground suitable for older children. The grounds of Blaise Castle Estate also hold a museum which is free to enter. The Hungry Caterpillar Play Café in Bedminster offers parents somewhere to keep the children entertained whilst they enjoy some local food and drink. The venue's pop-up evening events for adults are attended by children's entertainers to forgo the need for a babysitter.
What leisure facilities are available in Bristol?
Sport is a huge focus within the city of Bristol and it is widely known for having been named as the first Cycling City, said Ms Bennett-Clements (Goodman & Lilley). "At any given time of day — you'll spot runners and cyclists galore — you can't help but want to join them, especially if their routes are past Bristol's iconic hotspots," she said.
There are a number of ways to keep fit in Bristol because it has a range of gyms, including the pricier option of David Lloyd — which has two chains — and Virgin Active, both of which have swimming pools. Then there are the cheaper and more basic options, including PureGym Bristol and The Gym Group. Mr Williams (Roderick Thomas) said it's worth looking for the smaller, unique gyms and there's a good one behind Clifton College which is less busy than others. If you hate gym-going, however, there are lots of alternatives such as classes in aerial yoga, dance and CrossFit.
Insider's guide: Top tip for getting off the beaten track in Bristol
Mr Williams' (Roderick Thomas) top tip is to visit the Lido in Clifton which is one of the oldest surviving lidos in the UK. Almost demolished in the early 1990s, the building is now Grade II listed. It is open seven days a week for anything from breakfasts, brunches or lunches, to spa days or just for a quick dip in the pool. At the trendy poolside bar you can order delicious tapas, stay for afternoon tea or enjoy the Lido's very own Lido Ale.
Mr Webber (Westcoast Properties) said that all families should pay a visit to the famous International Balloon Fiesta which is a must see, set in the picturesque grounds of Ashton Court, a country park and mansion. This in itself is an enjoyable day out, if only to take in the breath-taking views over the city and the famous Clifton Suspension Bridge. For shopaholics, Mr Webber recommends a day trip to the Cabot Circus shopping centre, together with a walk down Park Street where you will find some more boutique independent shops and cafés.
References
All information is correct at 27/11/15
Instant

property alerts

If you're looking to buy or rent, give yourself a head start and set up an instant property alert here today.